Optimize Your Office Layout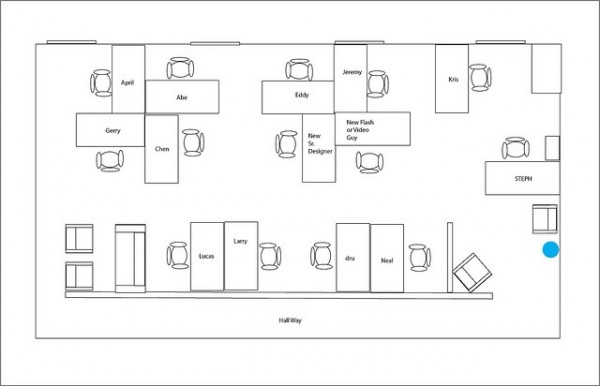 Most people spend a majority of their days in an office setting. At (at least) 40 hours per week, it is important that this shared working space is optimized in a way that maximizes both comfort and productivity. If you are looking to change up your current office space in an attempt to make the best use of the space, here are five ways to do so:
Plan Ahead
Before you start buying an array of accessories and bulky treadmill desks, it is important to sit down, make a budget, and come up with a list of priorities. Then, you should decide on who will be the main decision maker in regard to designing your new space. If you have the funds, an interior designer is worth consideration as hiring a designer will be less time-consuming. Finally, consider your employees and what they (and your company as a whole) require in order to work as productively and comfortably as possible.
Toss Uncomfortable Furniture
Before you begin rearranging the furniture in your office, think about whether or not it is worth keeping. Poorly made furniture or furniture that is worn is not just an eyesore – it is a health hazard. Furniture that is not made with the body in mind can result in various health problems for your employees like chronic back pain, migraines, carpal tunnel syndrome, and eye strain. Ergonomic desk chairs, for example are fantastic places to start when looking for new office furniture.
Give Your Employees a Choice
Research has shown that employees report higher satisfaction in their jobs when they are given the freedom to personalize their workspaces or choose where in the office they would like to work.
Do Not Neglect Lighting
Lighting in an office matters. The more natural light, the better. Studies have shown that 68% of employees report that they are unhappy with the lighting in their offices. If natural light is not possible due to a lack of windows (or sun), consider lighting that mimics natural light.
Create a Relaxation Space
In order for your employees to be productive, they need breaks in areas where work is not permitted. Design a space that does not have computers or anything that would be considered work-related. The more relaxed your employees are, the more productive they will be.
By utilizing these five ways to optimize your office layout, you will be able to design an office that is productive and that is simply a great place to work.
Contact the Experts at OFD today or Schedule an Appointment for a Free Consultation.