Design & Layout
When you are looking to reconfigure your office's layout and overall design, things can become overwhelming rather quickly. With so many design options and layouts to choose from, it can be hard to narrow things down and to choose the best options for your specific workspace. While all workspaces are different and all require different design elements to thrive, here are a few tips to consider when reconfiguring your office's design and layout:
Utilize Natural Light
Natural light is much better for the human eye than fluorescent light. The latter can cause headaches and eye strains. Additionally, natural light helps to control your melatonin levels. This affects how focused and alert one feels. The more your employees are exposed to natural light, the more alert they will feel; this, in turn, will boost productivity.
Be Spacious
Be conscious about how you use the space in your office. Employees should be able to move about freely and furniture should be situated in a way where, if an emergency arises, people can exit the office in a safe and quick manner.
Prioritize Storage
For many, storage is often the last thing that is considered when they are redesigning an office. However, storage should be prioritized. By ensuring your office has ample storage, clutter will be reduced. This will allow employees to work in a more efficient manner.
Don't Skimp
While it can be tempting to purchase furniture based on cost, make sure that the furniture you purchase for your office is of good quality. With cheap furniture, you get what you pay for. Not only will this make your office look subpar, but poor-quality furniture can affect the health of your employees negatively. Ergonomic office chairs, for example, have been proven to increase productivity and reduce the number of sick days that employees take. Additionally, higher-quality furniture lasts longer than poorly made furniture; this will save you money in the long run.
Use Your Lobby
Your lobby is the first thing customers and clients see when they step into your office. It is important that your lobby reflects your business and what your business offers. It should have comfortable seating and should be an extension of your business.
Reconfiguring your office does not have to be an overwhelming experience. By using these tips when designing your new office, you will be able to create a space that reflects the values of your business and that stimulates pride in the people that work there.
Contact the Experts at OFD today or Schedule an Appointment for a Free Consultation.
Optimize Your Office Layout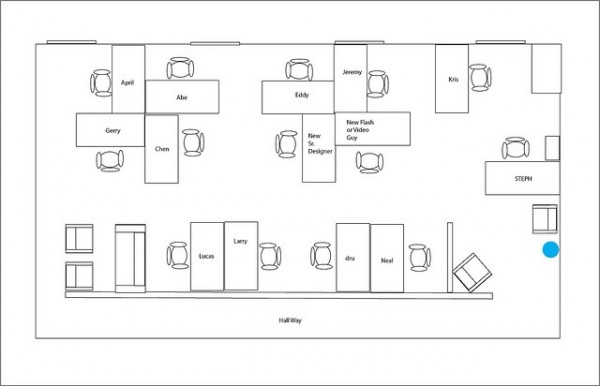 Most people spend a majority of their days in an office setting. At (at least) 40 hours per week, it is important that this shared working space is optimized in a way that maximizes both comfort and productivity. If you are looking to change up your current office space in an attempt to make the best use of the space, here are five ways to do so:
Plan Ahead
Before you start buying an array of accessories and bulky treadmill desks, it is important to sit down, make a budget, and come up with a list of priorities. Then, you should decide on who will be the main decision maker in regard to designing your new space. If you have the funds, an interior designer is worth consideration as hiring a designer will be less time-consuming. Finally, consider your employees and what they (and your company as a whole) require in order to work as productively and comfortably as possible.
Toss Uncomfortable Furniture
Before you begin rearranging the furniture in your office, think about whether or not it is worth keeping. Poorly made furniture or furniture that is worn is not just an eyesore – it is a health hazard. Furniture that is not made with the body in mind can result in various health problems for your employees like chronic back pain, migraines, carpal tunnel syndrome, and eye strain. Ergonomic desk chairs, for example are fantastic places to start when looking for new office furniture.
Give Your Employees a Choice
Research has shown that employees report higher satisfaction in their jobs when they are given the freedom to personalize their workspaces or choose where in the office they would like to work.
Do Not Neglect Lighting
Lighting in an office matters. The more natural light, the better. Studies have shown that 68% of employees report that they are unhappy with the lighting in their offices. If natural light is not possible due to a lack of windows (or sun), consider lighting that mimics natural light.
Create a Relaxation Space
In order for your employees to be productive, they need breaks in areas where work is not permitted. Design a space that does not have computers or anything that would be considered work-related. The more relaxed your employees are, the more productive they will be.
By utilizing these five ways to optimize your office layout, you will be able to design an office that is productive and that is simply a great place to work.
Contact the Experts at OFD today or Schedule an Appointment for a Free Consultation.
Boost Productivity
When you are furnishing your office, it is important to design it in such a way that employees can be as productive as possible. Having an aesthetically pleasing office setup can lift the moods of your employees, increase performance, and maximize productivity. In order to ensure that your office's design is tailored in a way that increases overall productivity, keep these four tips in mind:
Be Wary Of "Open" Office Designs
While open offices are trendy, it is important to read the room. If a majority of your employees are Millennials, an open office plan may work. However, if you have a mix of employees, research has shown that open office plans do more harm than good. In fact, in a 2013 study, 53% of office workers that were surveyed were regularly disturbed by their coworkers when trying to work on private tasks.
Productive offices have quiet zones for specific kinds of work that require deep thinking and silence. While you can have a part of your office that is open, designate an area that is portioned off from the rest of the office so employees can have some privacy when needed.
Utilize Natural Light
Fluorescent light is a mood and productivity killer. Natural light is beneficial for the happiness of your employees. An added bonus is that working in an office with a lot of natural light has been shown to help employees sleep better at night, which can help increase their productivity during the day. Maximize the access that your office has to sunlight.
Add Personality
Turn your office into a place that employees enjoy working in. Utilizing bright colors and artwork can help boost productivity by inspiring creativity. Further, an aesthetically-pleasing office is beneficial of terms of client relations. First impressions matter. The better the first impression with a client, the more likely it is that they will utilize your company's services.
Invest in Certain Items
Office workers spend a lot of time seated. Proper seating is incredibly important. Invest in chairs that are comfortable and that promote good posture so that your employees do not develop chronic back pain (one of the leading causes of sick days in the office). Further, do not skimp on high-quality computers, scanners, printers, software tools, and fast Wi-Fi.
By utilizing these four office design tips, you will be able to boost productivity by creating an environment that is enjoyable to work in.
Contact the Experts at OFD today or Schedule an Appointment for a Free Consultation.