Common signs that it's time for an office furniture refresh
Boring office furniture is bad. It might not seem like a big deal but dull furniture can actually make employees lazy, surly, and unproductive. And that won't do if you want to maintain an efficient and successful company. An office environment reminiscent of classic Mary Tyler Moore show sets won't inspire your workforce and certainly will not make an ideal impression on visiting customers.
If your employees are sitting at aged desks and perched on orange vinyl-covered chairs, it's time for a refresh. Even a simple switch to bright colors will help boost productivity and instill an upbeat attitude among the troops. But how do you know when it's time to take the furniture-upgrade plunge?
Change is in the air
If your office furniture is still structurally sound, in acceptable condition, and supports people and equipment; why not keep it around? Maybe you can get another year or two out of it and save a few bucks. Alas, even a subtle deterioration in furniture quality can negatively impact productivity. Let's look at some common signals that it's time to refresh your office furniture vibe:
Stuck in the past
Is your office lobby adorned with a couch and chairs with long-dated patterns or covered in an uncomfortable texture? Perhaps it is in shabby condition at best and detracts from a professional image. Investing in contemporary styles and function goes a long way in promoting your business and productivity within.
Space saver
If your company is young and rapidly growing, or established and expanding, it is likely you will soon run short on space and that always puts a damper on efficient operations. While you might indeed need a physically larger office, your current collection of furniture might be to blame. Old, unnecessarily large, and poorly arranged furniture takes up a lot of space. Consider an open floor plan with compact workstations or cubicles.
Dissent in the ranks
Proper posture at work is very important and worn out, uncomfortable chairs have the opposite effect. Work-related muscle injuries are commonplace and can take key staff out of commission for lengthy periods of time. Rickety desks and cluttered workspaces are also troublesome and if you hear complaints and concerns from staff, take them seriously and start researching sources for an influx of new furniture.
Not tech friendly
Today's offices are designed to accommodate technology. Old desks lack cutouts for cables and employees end up with a dozen cables strung across their desks, taking up valuable workspace.
Choose cubicles to minimize distraction in the workplace
The now-ubiquitous office cubicle was invented way back in 1967 and soon found its way to offices around the world. Indeed, office environments all o'er the land were soon home to mazes of uniform cubicle layouts and other "cubeville" workplaces. And for the most part, workers loved them. Individual cubicles are ideal for providing an element of employee privacy while still fostering collaboration and team building. Cubicles also save space, offer customizable individual workspaces, and allow for seamless communication with colleagues.
In terms of privacy, cubicles remain directly linked to productivity. Most people are more focused when working in a private space and cubes also allow a person's individuality to shine with a personal space within a team setting.
You're distracting me
Perhaps one of the biggest advantages of cubicles is minimizing workplace distraction, which can be nothing short of rampant in today's office environments. It's no secret that noise plays a big factor in staying focused on multiple tasks and completing daily projects. Peppered with distractions all day presents a challenging scenario for employees to stay on track and accomplish what they are charged with in their job roles. To that end, cubicles provide just the right balance of privacy and collaboration to maintain an individual space to focus on work, with the option of sharing ideas with a colleague next door.
Open office environments are all the rage these days and in fact sparked a widespread exodus from the traditional cubicle workplace. Fueled by the siren song of collaboration, flexibility, team-building, and creativity; offices everywhere ditched their tried and true cubicle layouts for wide open spaces, funky "privacy nooks," and team gathering destinations. While this works well for some companies, noise and distraction are major drawbacks. The din of a dozen different conversations, racket from various office equipment, and a parade of "hey, do you have a minute" or "can we talk about the new project" can make it extremely difficult to stay on task.
Return to Cubeville
In an ironic twist, the mad rush to keep up with the open office trend actually spurred many people to flee back to the familiar comfort of their cubes. One of the most attractive reasons is community. Cubicles in place of private offices remove the hierarchy and promote a level playing field, helping employees feel included and fueling the sharing of innovative ideas and efficient communication.
Quiet individual work and team collaboration directly benefits a company's end goals, saves valuable office space, and ultimately creates a united and productive business unit.
How to improve your office layout to get employees excited
It's no big secret that the physical look, appeal, and functionality of a workplace directly impacts productivity and overall excitement of employees. On the flip side of that, an inefficient or drab environment inspires distracting habits that take away from the job at hand. If you want to inject a boost of morale and motivation in your staff, consider a new office layout.
Open office or private?
With the considerations and needs of your staff in hand, you can factor in the company's culture, working styles, staff personalities, and your budget to determine the best fit. Open office plans have been a popular trend in recent years and tend to work great with startups and collaborative thinking environments. Private spaces, on the other hand, are also effective at inspiring productivity and excitement for their jobs.
Bring in some color
Colors have an array of psychological effects on us, including emotional and behavioral. Consider incorporating your company's logo colors into the workspace to inspire pride, and bring in greens for balance and growth, blue to inspire intelligent thought, and yellows or oranges to stimulate happiness.
Let there be light
Lighting has an enormous effect on office morale and productivity. Natural light is critical to humans' circadian rhythms and is proven to boost happiness. In fact, exposure to light directly impacts an office worker's performance and overall quality of life. If your office does not have windows, consider mirrors or full-spectrum light bulbs.
A little flora goes a long way
The simple introduction of plants in an office can reduce stress and sickness, as well as dampen noise levels. Plants are also great at cleaning the air and "planting the seed" of creativity. Look for low-maintenance plants and others with color or unique looks.
Tap your inner artist
Along with attractive plants, artwork is highly effective in establishing an upbeat office vibe. Studies show that art directly enhances productivity and creative work, boosts morale, and offers employees an opportunity to personalize their workspaces, which subsequently lowers stress.
Switch up the amenities
Many times it's the little things that make a big difference. Ditching the Ho-ho's from the vending machine, for example, and replacing with healthy alternatives can charge up someone's day. A place for employees to relax and recharge during the day can inspire excitement to dive into the next project with verve. On-site childcare is a big deal for many people as well. Knowing your little one is nearby is guaranteed to make you smile.
Health benefits of workstations with sit-stand desks
A large majority of today's office environments include traditional workstations with cubicles, a desk, and chair; at which workers sit for many long hours every day. In fact, some people arrive at work, plop down in a chair, and remain there for eight or ten hours.
All that sitting is bad for your health. Studies show that employees sitting still for extended periods every day have a greatly increased risk of diabetes, heart disease, and even earlier death. Another immediate and more visual effect is weight gain, as just sitting in one place does little to burn calories.
But what choice do office workers have if they are chained to a desk day after day? The good news is new and versatile desk options are now available, including models that offer the choice to stand or sit.
Introducing the standing desk
Simply defined, a standing desk (or stand-up desk by another name) is an adjustable desk that allows a person to work while standing up. Many different models are available and most include simple controls to adjust their height to comfortable working positions. The desk can be returned at any time to a traditional position if the worker wishes to sit.
While research is ongoing, standing for at least part of the day appears to have noticeable health benefits and can boost productivity. To that end, let's look at some of the benefits of a stand-up desk.
Lowered risk weight gain and obesity
We gain weight by taking in more calories than we burn, and the opposite is also the case. Sitting in one place at a desk all day does virtually nothing to burn calories and in fact we burn more calories sleeping than sitting in a chair for extended periods. Exercise is of course the best way to burn calories but standing during the work day, at least intermittently, is also a sound health strategy.
Lowered risk of heart disease
Scientific studies tell us that extended sitting can increase the risk of heart disease by nearly 150 percent. Even an hour of intense exercise doesn't negate the effects of a full day of sitting.
Go easy on your back
Back pain is a common malady of office workers everywhere but standing desks have shown a significant improvement in lower back pain.
Boost your mood
Less stress and fatigue keeps us happier and energetic during the day, while sitting around trends toward anxiety and depression. A stand-up desk can be just what your wellbeing needs.
It might seem inconsequential on the surface, especially in relation to everyday demands of your business, but a well-planned office space is a major contributor to company image, employee productivity, and enduring success. Space planning is your chance to give visitors and potential clients walking through the door a great impression with sophisticated looks and efficient design. Proactive organization also goes a long way in alleviating chaos when adding employees or revamping a department.
Most importantly, intelligent office space planning can build a welcoming environment and upbeat workday atmosphere; and that is the key ingredient to a positive, motivated workforce. Employees who genuinely enjoy working for a company tend to put in extra effort and apply their best skills toward results, and clients are equally intrigued to do business with them.
What is office space planning?
Simply stated, office space planning is an interior design component that arranges office layouts conducive to collaborative company tasks. It is a strategic approach to creating an efficient workflow and seamless communication, with the end goal of increased productivity and work quality while placing emphasis on employee comfort.
Indeed, space planning considers all elements of an existing environment including a company's daily needs, how a space influences employees' abilities to contribute, and what employees desire in an ideal work environment.
How to set up an ideal office space
Consider the central purposes for an office space as a whole, as well as internal departments, and design around them. Perhaps you want to inspire employee collaboration and more engagement with projects, while at the same time ensuring their comfort and workday health. Every little detail should be considered from cubicle arrangement and quantity to soap dispensers to drinking fountains and cafeteria pantries.
Holistic components such as an activity room, gym, or relaxation area are also popular and beneficial; and all must be planned and prepared for accordingly. Even seating arrangements come into play, and will develop to match an individual company's needs.
Consider aesthetics
A good-looking office space inspires, reduces stress, and carries a company's mission and personality throughout the facility. Office space planning is a critical component for business stability and promotes long-term growth. Employees working in a well-designed space with room to move and collaborate without worrying about disruption will soon become a company's most valuable and productive assets.
For more information on office space planning, contact the Office Furniture Direct team at (503) 546-1546 or officefurnituredirect-pdx.com.
Workstation Layouts That Enhance Productivity
Ensuring optimal levels of productivity within a workspace is no easy task.  There are an incredible number of factors involved, some of which are beyond your control.  If an employee is having problems at home that occupy their thoughts, you can't do much more than give them a personal day to try to rectify the situation.
However, there are plenty of areas where you can take steps to improve productivity on a daily basis, starting with the office environment you create.  The right workstation layout can have a major impact on productivity, and there are several ways you can plan for a layout conducive to enhancing efficiency and performance.
Adequate Work Space
Understanding what your employees do and how they utilize work space is essential to creating proper workstation layout, whether you're measuring the square footage needed for each cubicle or desk area or you're considering the optimal size of desk you'll need and how equipment should be arranged.  The work area and furniture assigned to each employee should be adequate to accommodate the work they must do.
Organizational Tools
Clutter can be a productivity killer, so you want to make sure each workstation is outfitted with the organizational tools needed to ensure organization and efficiency.  This could include furniture like shelving and filing cabinets, or desktop and drawer organizers that coral cables, contain pens and pencils, and house loose papers until they can be addressed or filed away.
Ergonomic Solutions
Productivity can be hampered by discomfort, which is why ergonomic solutions have become an essential part of the office layout.  Ergonomic keyboards can help to eliminate repetitive motion injuries, for example, while ergonomic chairs and adjustable desks can reduce instances of back and neck pain, which are among the most common complaints from desk jockeys.  With the right ergonomic office solutions, you'll create a work environment conducive to greater comfort and productivity.
Ample Lighting
Technically, this has little to do with the actual layout of the workspace, unless it centers on desktop task lighting, but having abundant natural lighting is one of the most important factors when it comes to increasing productivity, so it bears mentioning.  Our circadian rhythms are based on cycles of light and darkness, so when we find ourselves in a poorly lit environment, it's only natural that we start to feel sleepy.
However you arrange your workstations and work surfaces, you need to find ways to imbue your space with natural light, as well as artificial lighting that mimics the sun.  When paired with suitable workstation layouts, this element could significantly boost productivity.
How to Choose the Right Cubicles for Your Workspace
The layout in your office may seem like a passing concern. As long as you can fit the number of workstations needed to accommodate headcount, does it really matter which cubicles you use or how you arrange them?
As a matter of fact, the layout of your workspace can impact performance, productivity, and employee morale, so choosing a suitable layout and using the right elements is hugely important if you want your operation to be efficient and profitable, and you hope to retain talent. How do you go about choosing the right cubicles for your office space? Here are a few things to consider.
Take Measurements
From a purely practical perspective, you shouldn't purchase cubicles until you're sure they'll actually fit in available space. You need to measure the square footage in your office to ensure that the number and size of cubicles you have in mind will actually fit. If not, you might need to select a different product or consider expanding your workspace to fit more cubicles and employees.
Don't forget to measure furniture, as well. Whether you have existing furniture or you're planning to purchase desks and other needed furnishings to fill your office, it's important to make sure the design elements in your office all work together before you buy.
Consider Usage
What is it your employees do? Their tasks could determine the size and shape of cubicles you choose. Does the average employee need multiple monitors, myriad equipment and devices, and plenty of storage space, including filing cabinets, drawers, and shelves? Or do employees use simple enough setups that two people could reasonably share a single cubicle space with a desk on either side?
Consider Corporate Culture
Your corporate culture and the way you envision employees interacting with each other and the space could have a major impact on the cubicle design you choose. For example, do employees frequently collaborate as teams or do they mostly work solo?
Is your company's work philosophy more traditional or creative in nature? In other words, do you encourage employee interaction or do you expect them to hunker down and get work done in silence?
You also need to consider how you want light and sound to flow through your space. Should cubicles provide seclusion so workers can focus on their tasks, or do you want an open environment that facilitates conversation and creative thinking?
When you take the time to consider your space and furnishings, how the space will be used, and the behavior you expect from employees, you'll have a much easier time choosing suitable cubicles for your workspace.
Design & Layout
When you are looking to reconfigure your office's layout and overall design, things can become overwhelming rather quickly. With so many design options and layouts to choose from, it can be hard to narrow things down and to choose the best options for your specific workspace. While all workspaces are different and all require different design elements to thrive, here are a few tips to consider when reconfiguring your office's design and layout:
Utilize Natural Light
Natural light is much better for the human eye than fluorescent light. The latter can cause headaches and eye strains. Additionally, natural light helps to control your melatonin levels. This affects how focused and alert one feels. The more your employees are exposed to natural light, the more alert they will feel; this, in turn, will boost productivity.
Be Spacious
Be conscious about how you use the space in your office. Employees should be able to move about freely and furniture should be situated in a way where, if an emergency arises, people can exit the office in a safe and quick manner.
Prioritize Storage
For many, storage is often the last thing that is considered when they are redesigning an office. However, storage should be prioritized. By ensuring your office has ample storage, clutter will be reduced. This will allow employees to work in a more efficient manner.
Don't Skimp
While it can be tempting to purchase furniture based on cost, make sure that the furniture you purchase for your office is of good quality. With cheap furniture, you get what you pay for. Not only will this make your office look subpar, but poor-quality furniture can affect the health of your employees negatively. Ergonomic office chairs, for example, have been proven to increase productivity and reduce the number of sick days that employees take. Additionally, higher-quality furniture lasts longer than poorly made furniture; this will save you money in the long run.
Use Your Lobby
Your lobby is the first thing customers and clients see when they step into your office. It is important that your lobby reflects your business and what your business offers. It should have comfortable seating and should be an extension of your business.
Reconfiguring your office does not have to be an overwhelming experience. By using these tips when designing your new office, you will be able to create a space that reflects the values of your business and that stimulates pride in the people that work there.
Contact the Experts at OFD today or Schedule an Appointment for a Free Consultation.
Professional Design
As our culture shifts from work, work, work to promoting a more balanced work life, one of the more notorious changes within offices has been the overall design of the office itself. More and more companies are realizing the importance of creating a space that employees want to work in versus a space that employees have to work in.
An office that is designed with intent is an office that employees can take pride in; this, in turn, can boost productivity as well as overall office morale. The key to a creating a well-designed office is to hire a professional. Here are a few benefits of hiring a professional to design your office space:
Save Time and Money
Many business owners may think that hiring an interior design professional will cost them more money than it would cost to simply re-design their office themselves. However, a professional is able to make strategic choices, does not need to adapt to a design learning curve, and will not have to experiment with different styles (which costs money in the long run). Further, you are able to save time. You can focus on business while a professional interior designer focuses on the aesthetics of your office.
High-Quality Materials
A professional designer knows what materials are best and has connections in place to ensure that the items you are receiving are high-quality and long-lasting. This helps avoid the usage of cheap materials that wear down quickly over time.
A Vision
Setting out to re-design an office on your own can become overwhelming. It can be hard to see the bigger picture. A design professional will present you with a mock-up of what you can expect the final product to be. This allows you to add your opinions in so he or she can tweak the plan to fit your wants and needs.
Maximizing Space
Design professionals know how to use the space available to them in a precise way. He or she will ensure that your space is designed in a way that encourages productivity and does not hinder people from getting their jobs done or from moving about the office without obstructions.
Hiring a design professional to design your office is a wise choice. A well-designed office is a fantastic way to ensure that employee productivity is boosted, stress is reduced, and that you are able to keep up with the changes in how people work in this day and age.
Contact the Experts at OFD today or Schedule an Appointment for a Free Consultation.
Optimize Your Office Layout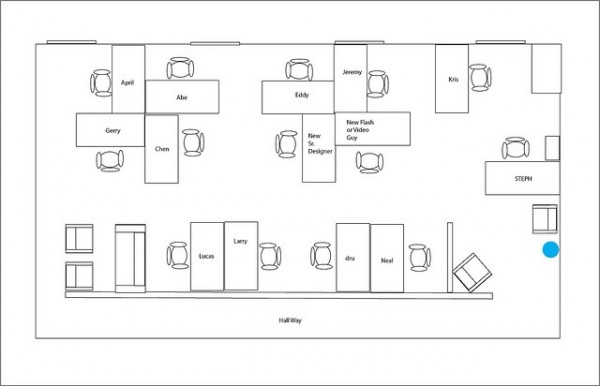 Most people spend a majority of their days in an office setting. At (at least) 40 hours per week, it is important that this shared working space is optimized in a way that maximizes both comfort and productivity. If you are looking to change up your current office space in an attempt to make the best use of the space, here are five ways to do so:
Plan Ahead
Before you start buying an array of accessories and bulky treadmill desks, it is important to sit down, make a budget, and come up with a list of priorities. Then, you should decide on who will be the main decision maker in regard to designing your new space. If you have the funds, an interior designer is worth consideration as hiring a designer will be less time-consuming. Finally, consider your employees and what they (and your company as a whole) require in order to work as productively and comfortably as possible.
Toss Uncomfortable Furniture
Before you begin rearranging the furniture in your office, think about whether or not it is worth keeping. Poorly made furniture or furniture that is worn is not just an eyesore – it is a health hazard. Furniture that is not made with the body in mind can result in various health problems for your employees like chronic back pain, migraines, carpal tunnel syndrome, and eye strain. Ergonomic desk chairs, for example are fantastic places to start when looking for new office furniture.
Give Your Employees a Choice
Research has shown that employees report higher satisfaction in their jobs when they are given the freedom to personalize their workspaces or choose where in the office they would like to work.
Do Not Neglect Lighting
Lighting in an office matters. The more natural light, the better. Studies have shown that 68% of employees report that they are unhappy with the lighting in their offices. If natural light is not possible due to a lack of windows (or sun), consider lighting that mimics natural light.
Create a Relaxation Space
In order for your employees to be productive, they need breaks in areas where work is not permitted. Design a space that does not have computers or anything that would be considered work-related. The more relaxed your employees are, the more productive they will be.
By utilizing these five ways to optimize your office layout, you will be able to design an office that is productive and that is simply a great place to work.
Contact the Experts at OFD today or Schedule an Appointment for a Free Consultation.